Are you new to SEO? Or want to know how to add a few SEO skills to your CV? Then you will need to read some books on SEO or sign up for online SEO training courses. I know reading thick books on SEO isn't for everyone, so I've put together a list of the 8 best SEO training online courses that are available online.
Before starting with this list, I will give a brief introduction to What is SEO?, and why SEO is important and what are the latest trends in SEO.
SEO is known as search engine optimization Search Engine Optimization. It is a method by which search engines find and rank websites. If a website is ranking at the top of the search results, then that website has a very good SEO method. One problem with SEO is that there's no such thing as a number to measure it. There are many factors that you need to consider when performing On-page SEO as well as Off-page SEO of that website.
Why is SEO important?
There are millions of websites on the internet, to make your website appear in front of everyone's eyes, you need to please the search engines. And the only way to please them is to have a suitable SEO tactic. If you rank high in the SERPs (search engine results page), your website will automatically get a large amount of organic traffic called organic traffic. More hits means a lot. The traffic on a website is the leading factor in determining the success of a business and SEO has an important role in that.
SEO not only improves your search rankings but also improves user experience. To stay ahead of the crowd, you need to know about the latest SEO trends and choose the right SEO training course.
There are a few recent SEO trends that have completely changed the concept of SEO, which are really interesting. Mobile devices have become really important and so is website optimization for mobile devices. Social media will be a factor affecting SEO. Mobile apps will also have their own SEO methodology. There are many such trends, but you need to choose which one is right for you. There are also many best SEO Plugins for wordpress you need to learn.
And one last thing you have to keep in mind is that now is the era of the "Mobile-Firsts Index"
8 best SEO training online courses
Udemy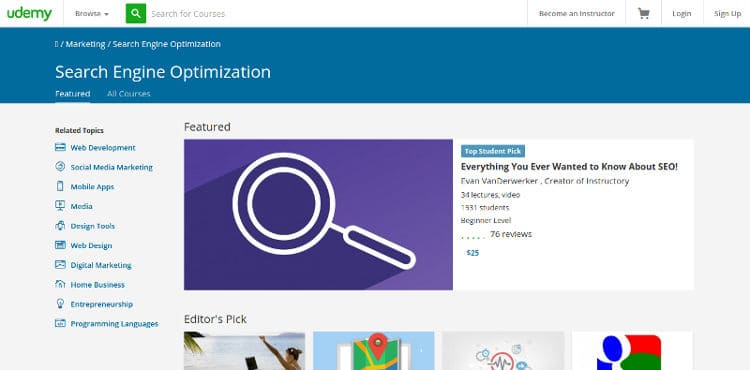 Udemy is a great platform for online learning. It has more than 30.000 Courses serve the interests of more than 7 million won student. The best part about it is that it has more than 19.000 instructors, who are constantly updating more and more courses. That way you'll know you have plenty of options.
In terms of SEO training courses, they have more than 280 Courses include both paid and free. The courses below are worth your reference:
SEO for SEO beginners
How I hit #1 on Google: The 2016 complete SEO course
The complete SEO course: Rank your website in Google easily
DealFuel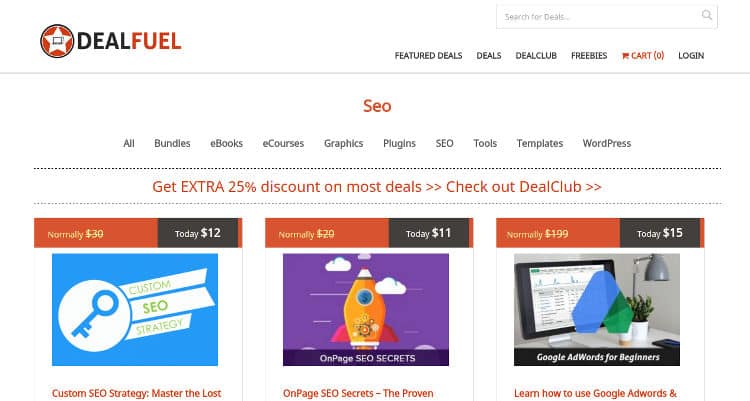 DealFuel is a site for everyday deals where you'll find great deals for web professionals. They have a wide variety of courses available from all the major SEO training course sites on the internet like Udemy or HubSpot. Aside from being a deal site, the best part about it is that you get all the courses as usual but for a pretty cheap price. So if you want to enroll in any of the paid courses, its better to check them out on DealFuel and you can get it for a pretty decent price.
The SEO training courses below are the ones that are extremely helpful, plus they are even discounted.
OnPage SEO Secrets – The Proven Formula for #1 Ranking
Custom SEO Strategy: Master the Lost Art
Moz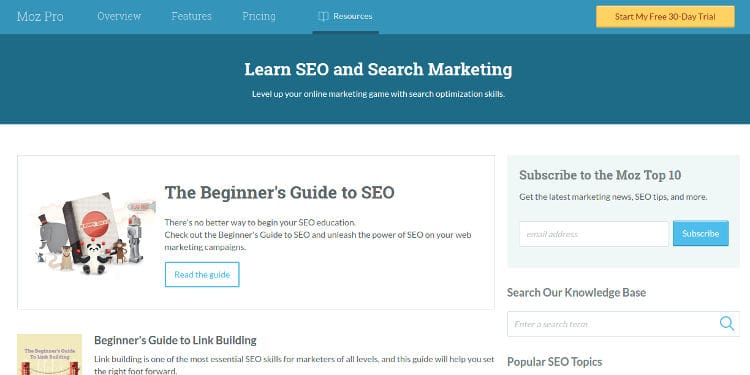 For those who don't know about Moz and Moz toolbar. With their start in 2004, they have quickly become the best SEO consulting company. They provide SEO-related services, and continue to expand their field. If you want to know how well they do, Google "what is SEO" and you will see them on the first page.
Moz courses started with the launch of a few courses on Udemy. After that, they created a lot of courses on their own site. In addition to courses, they also have workshops, quizzes, tutorials and more. Also don't forget to check out Moz Academy where they have courses for beginners as well as experts.
Coursera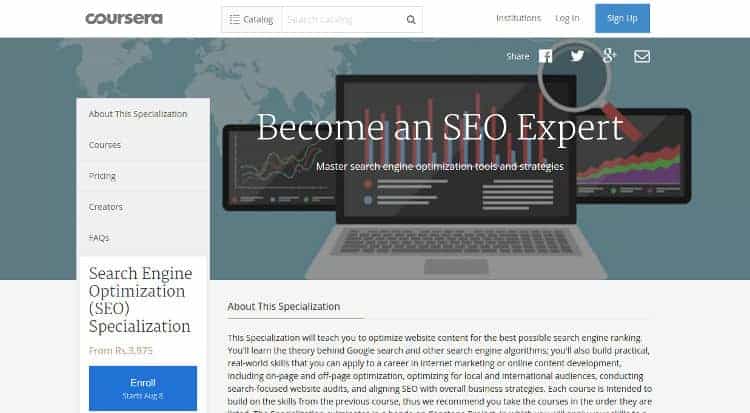 Coursera is an extensive online training platform where you will find a wide variety of courses on a wide variety of topics. Coursera's mission (USP) is that they have been connected with universities and educational institutions around the world to bring you quality content.
The 6-course SEO specialist course is one of their best. The special was designed in partnership with the University of California. Other courses on Coursera are also created with the help of top universities. So please refer to them.
One small downside of their courses is that since they are tied to the university, their courses will start at a specific time and end also with a pre-determined specific time. But once the course has started, it will be as expected and you won't find yourself wasting time on it at all.
Yoast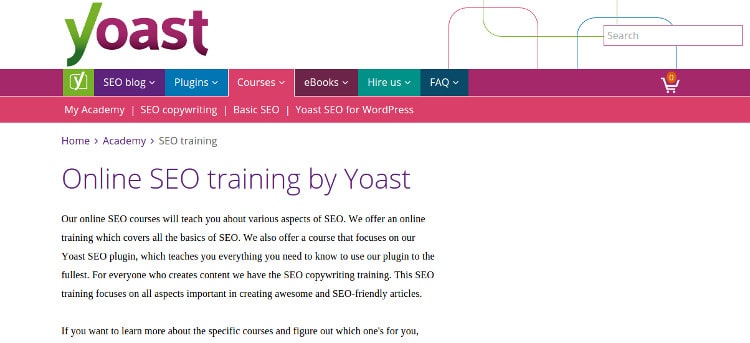 Yoast has a WordPress SEO Plugin that helps in improving SEO by providing a checklist. They have a lot of Add-ons to add to the plugin to enhance its performance. Furthermore Yoast also has tutorials that will help you understand their plugin better. They also have a few courses for new users who want to learn about SEO. They have an SEO copywriting course that I find to be the most useful for writing SEO friendly content.
UnGagged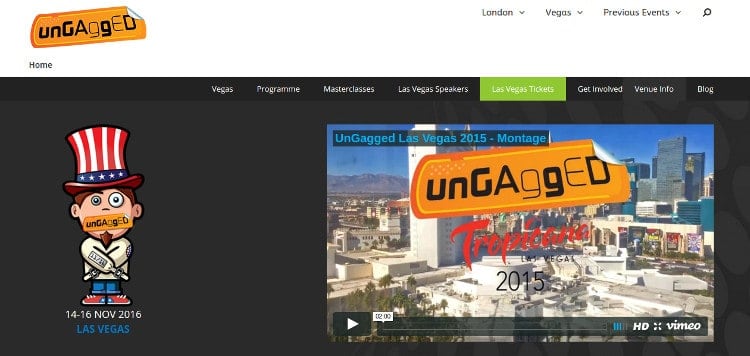 Ungagged is not really a library of online courses but it is a place of discussion that attracts large audiences and speakers on the topic of internet marketing. They focus mainly on bringing the experts and beginners together by conducting discussions.
Ungagged conducts discussions in London and Las Vegas. If you can attend any of their seminars, you'll see how helpful they are. Personally, I find these seminars a great way to learn, because there are real people you can talk to and discuss everything with.
If you're willing to attend any of their seminars, check their schedule. SEO has an important role in internet marketing, UnGagged is full of events and seminars where you can gather quality information.
Alphabet (Google)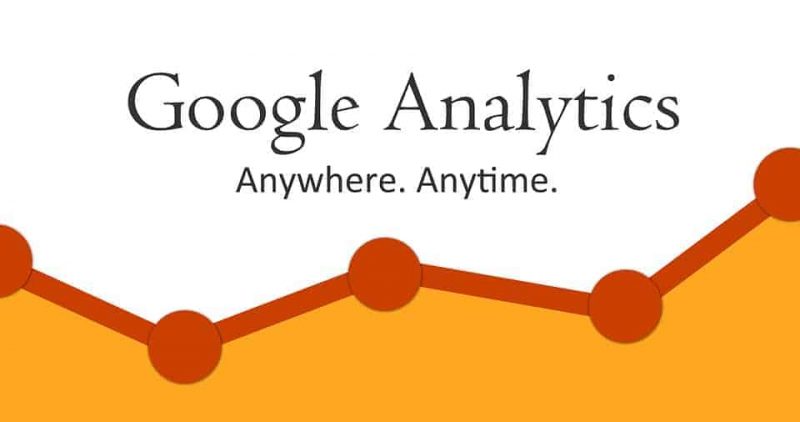 This isn't exactly a site for courses, but it is the foundation of most SEO training courses. The Google search engine is one of the most used search engines in the world – it accounts for two-thirds of the search market in the US. With such popularity, most SEO courses are only about algorithms, updates or whatever their announcements are.
Since so many people depend on Google to search, they have a lot of useful tools that can help you with SEO and most importantly, all of them are free. Tools like Google Webmaster (now Google Search Console), Google AdWords, and Google Analytics are all the best tools that you should have on your SEO tools list. Personally, I like all of them. Google Search Console to know about your site's performance. Google AdWords to run ads but also to find keywords for my content with Google Keyword Planner for keyword suggestions. And more, Google Analytics to make smart business and marketing decisions.
You'll find online courses to learn more about these tools, and Google also provides tutorials that really help.
HubSpot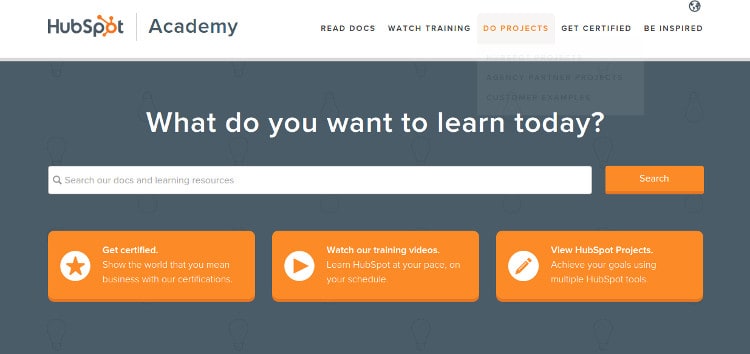 HubSpot is the place where you will find the latest internet marketing news and trends. Their blog is regularly updated with quality content. The tutorials they put out through the blog are the ones you'll want to find.
They have an unlimited and free marketing course that covers topics like SEO, landing pages, blogging, conversion analytics and more. They also have extensive training courses that you can enroll in at any time.
As such, those are the 8 best SEO training courses available online. If you have any suggestions or opinions about the courses, let us know in the comments section below.
If you want to use SEO support plugins, currently vip.dieuhau.com is providing a lot of plugins that can help you in this. These plugins are all copyrighted plugins and are shared with you at a very favorable price.