In May 2020, Platinum Network Solutions Joint Stock Company – BKNS became the official SSL distributor of GlobalSign in Vietnam. With the goal of bringing a comprehensive network solution, BKNS is making important changes, ready to integrate deeply and strongly to bring to the Internet user community in Vietnam international standard services. .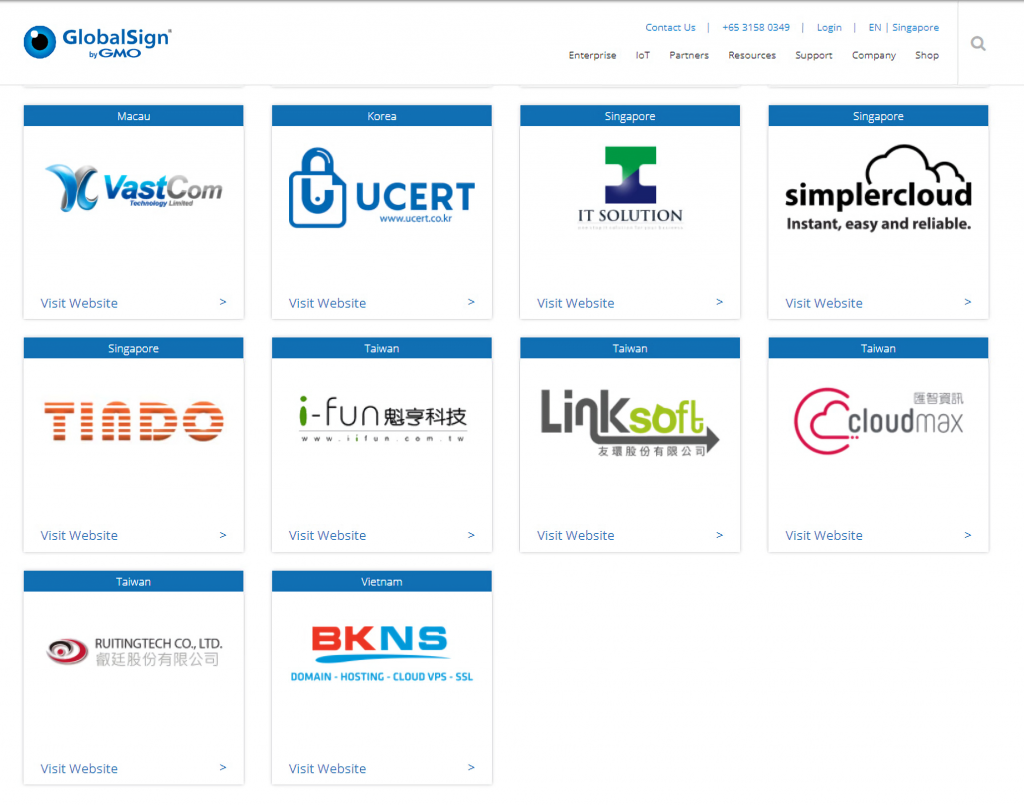 (BKNS becomes GlobalSign's national representative in Vietnam)
Something about GlobalSign

(GlobalSign is leading the SSL market in Vietnam)
GlobalSign is one of the first enterprises in the world to be recognized as a public digital signature certification service provider (1996). During nearly 20 years of operation in the field of network safety and security, GlobalSign has issued more than 40 million quality certificates and 2.5 million SSL certificates to millions of websites worldwide.
In Vietnam, GlobalSign's SSL certificate is occupying 42% market share. Of which, up to 90% of SSL is used in electronic payment gateways. Most financial institutions – banks, government agencies are using GlobalSign SSL.
Care: Internet statistics and facts in 2021 (Part 1)
GlobalSign's SSL Security Solution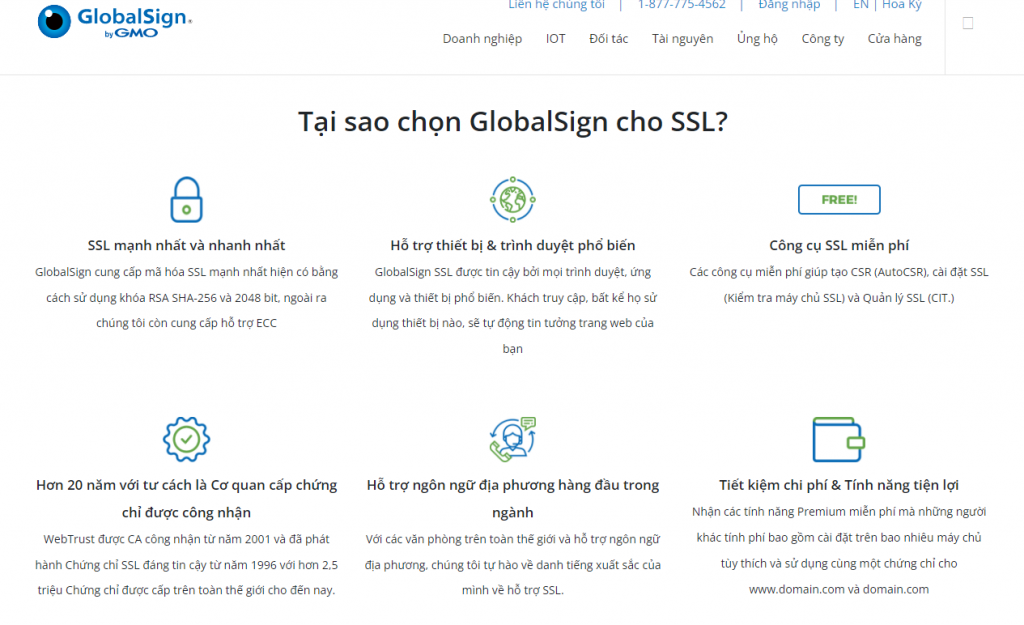 (GlobalSign SSL certificate is trusted worldwide)
With millions of SSL certificates issued globally, GlobalSign is at the forefront of security solutions.
– Strongest and fastest SSL: Provides strongest SSL encryption using RSA SHA-256 and 2048 bit keys. In addition, GlobalSign provides ECC support.
– Support popular devices & browsers: GlobalSign SSL is trusted by all popular browsers, applications and devices. Make sure when customers visit with any device, they will automatically trust your website
– Free SSL Tools: Free tools to help generate CSR (AutoCSR), install SSL (SSL Server Test) and Manage SSL (CIT).
Over 20 years as an Accredited Certificate Authority: WebTrust has been accredited by CA since 2001 and has been issuing Trusted SSL Certificates since 1996.
Industry-leading local language support: With offices worldwide and local language support, GlobalSign prides itself on its excellent reputation in SSL support.
– Cost Saving & Convenient Features: Get the free Premium features others charge for including installing on as many servers as you want and using the same certificate for www.domain.com and domain.com
BKNS is the SSL distributor of GlobalSign in Vietnam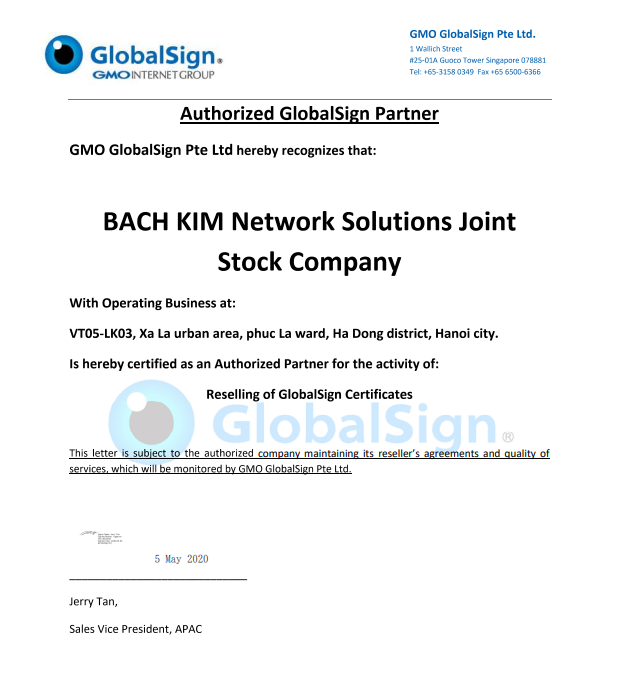 (May 2021 BKNS becomes a partner of GlobalSign)
With the explosion of the Internet, the issue of information security becomes more necessary than ever. Data exchange takes place every second of every minute on the Internet. All personal information used by users is at risk of being stolen by "hackers".
Aware of that problem, in May 2020 BKNS became a partner of GLOBALSIGN. Become a unit authorized to provide genuine Globalsign SSL certificate in Vietnam. Opening a new step in the country's network information security.
What do users get when BKNS becomes a distributor of GlobalSign?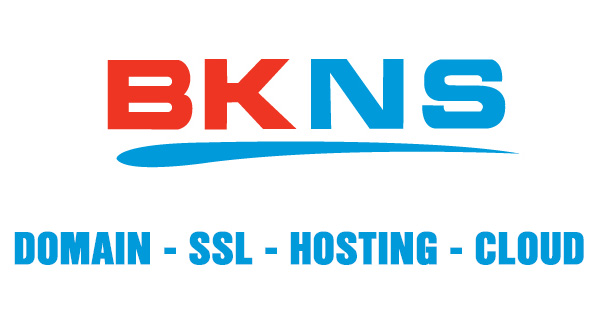 (BKNS is a leading company in Vietnam in the field of Information Technology and Cybersecurity)
BKNS is an agent of GlobalSign, we are committed to providing genuine GlobalSign SSL.
– Prices are always good: According to GlobalSign's policy, we guarantee the best price for our customers.
– Provide administrative account: When using SSL GlobalSign of BKNS, customers are granted an administrative account. This account will help customers easily manage and renew SSL.
– Consulting the best option: Advising customers to the appropriate SSL package, optimizing the budget.
– Support registration and installation: Besides the language advantage, BKNS will support customers 24/7. Helps the registration, verification and complaint handling process to be resolved quickly. Committed to supporting each step until customers can use it.
– Refund policy: Willing to refund found not genuine.
SSL GlobalSign service is available at BKNS
(BKNS provides a full range of SSL GlobalSign certificates of all kinds)
To match the market, BKNS has a variety of SSL packages to help optimize costs.
– Personal SSL Certificate: If your website is used for personal or small business purposes. You can use cheap SSL like: Globalsign Alpha SSL, Globalsign SSL SANs Subdomain (DV)…
– SSL certificate for organizations – businesses: With Website used for e-commerce business, online payment. You need a higher level of security and subject authentication for your customers to trust. Please use SSL with high authentication value such as: Globalsign SSL, GeoTrust QuickSSL Premium, Globalsign SSL SANs Subdomain, …
– SSL Certificate for Agents: Applicable to individuals and organizations that cooperate with BKNS.
When you need to be secured by SSL GlobalSign, come to BKNS. We will help you every step of the way until your information is safe.
See also: What is SSL? Benefits of using SSL