With so many advantages at the moment, VPS is a very good choice. However, there are many businesses that do not have the right consideration when choosing between Vietnamese VPS and foreign VPS. Today, let's learn and compare these two types of VPS with BKNS.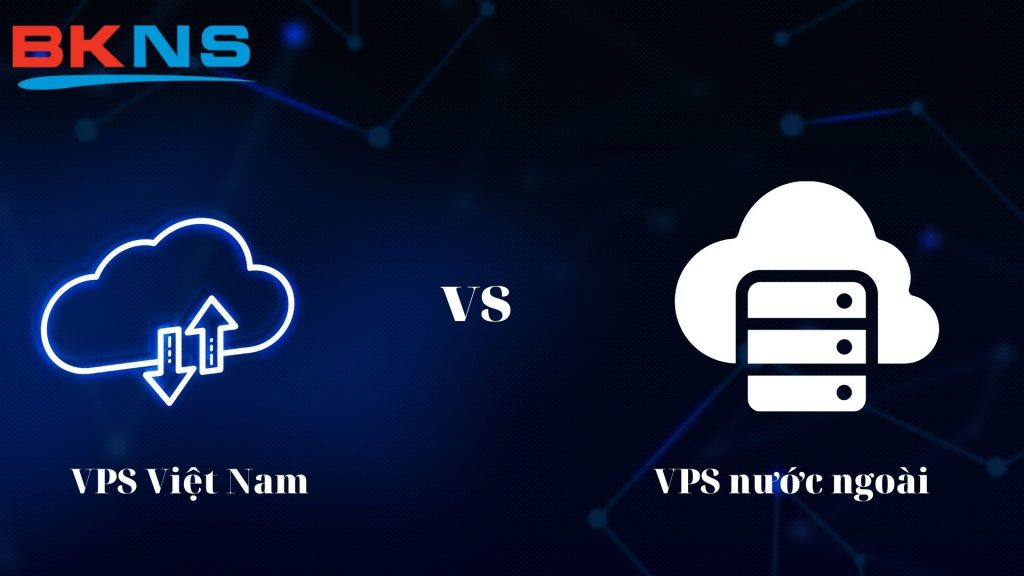 Advantages when choosing to rent Vietnam VPS
First, definitely when renting VPS Vietnam. You will get a service with high speed and much more stability than foreign VPS. This is due to the system of infrastructure and data centers in Vietnam. This helps ensure consistent transfer speeds.
Besides the stability factor, compared to renting VPS abroad. VPS services in Vietnam will be much cheaper. Because of many factors, the price is given like that to suit Vietnam.
Currently, the quality of VPS Vietnam is gradually improving. There are many VPS services with quality not inferior to foreign VPS. In addition, when your VPS service has a problem, Vietnam VPS will be supported faster. This is quite an important thing for Vietnamese users.
Disadvantages of renting VPS in Vietnam
With some Vietnamese VPS service providers, the speed they provide to customers will not be as fast and "smooth" as when customers rent foreign VPS, due to technology and infrastructure factors. still weak. However, these are just a few, most of the reputable VPS providers in Vietnam today have been improving this problem thoroughly.
Advantages of renting a foreign VPS
The first advantage is that foreign VPS has a modern system. The development of science, technology and techniques help better service quality. In addition, with a long history, renting a foreign VPS will have a better system quality.
When renting a foreign VPS, you will be fully committed to information security and effective data. At the same time, it minimizes problems such as being attacked by hackers, being infected with viruses, etc.
Disadvantages of renting a foreign VPS
Some disadvantages you need to keep in mind if you decide to rent a foreign VPS:
The price when renting a foreign VPS will be higher than that of a Vietnamese VPS.
You should have a pretty good English to be able to communicate easily. As well as to avoid difficulties when consulting or answering services.
Access speed may be slower and unstable. Because the infrastructure systems of these cable providers are often overseas.
Service consulting, support may be delayed because of geographical differences, different time zones. Foreign suppliers will not be able to handle the problem for you right away.
So, rent a foreign VPS or a Vietnamese VPS?
In short, we can see, renting a foreign VPS or renting a Vietnamese VPS has its own advantages and disadvantages, suitable for each needs of each object. If you want to rent VPS abroad, VPS Vultr can be a good choice for you.
However, we still have the tradition of "Vietnamese people use Vietnamese goods". And as you can see, the service VPS Vietnam has the same quality as renting a foreign VPS, if you choose the right reputable and genuine supplier.
One of the top 1 units in the field of providing VPS services today is BKNS. With more than 12 years of experience in the industry providing this service. BKNS confidently provides you with a Vietnam VPS service with a stable quality.
Let's see SSD VPS price list of BKNS here:
CLOUD-VM01

140,250 VND /month

01 Core

01 GB

20 GB

100Mbps

.

CLOUD-VM02

178,500 VND /month

02 Core

02 GB

30 GB

100Mbps

CLOUD-VM03

272,000 VND /month

03 Core

03 GB

40 GB

150Mbps

CLOUD-VM04

408,000 VND /month

04 Core

04 GB

50 GB

150Mbps

CLOUD-VM05

603,500 VND /month

04 Core

06 GB

60 GB

200Mbps

CLOUD-VM06

739,500 VND /month

05 Core

08 GB

70 GB

200Mbps

CLOUD-VM07

1,020,000 VND /month

07 Core

12 GB

80 GB

200Mbps

CLOUD-VM08

1,530,000 VND /month

08 Core

16 GB

100 GB

200Mbps
Specifications
Unlimited Bandwidth
Free SSL certificate let's encrypt
IPV4 address: 01
Free IPv6/56
Weekly data backup
Free trial: 07 days
24/7 support
Support transferring data from other NCC to BKNS.
Free Direct Admin
Requires separate configuration
Maybe you are interested: