What is FastPanel?
FastPanel is currently one of the popular hosting management software at the moment. FastPanel is similar to cPanel or Directadmin. However, the structure of FastPanel is simpler, so the processing speed is faster than other administrative software, above all, the free FastPanel.
What features does FastPanel have?
Domain management.
File management.
Database Management.
Backup & restore.
Let's Encrypt SSL support.
Monitor the status of VPS.
Emails.
FTP SFTP.
Apache & Nginx.
Install FastPanel.
To install FastPanel, you need at least 1 VPS or 1 server with root access. Need to be installed on a white OS, no pre-installed administrative software. The following operating systems are supported to install FastPanel:
Debian: 8, 9, 10, 11.
Ubuntu: 18.04, 20.04.
CentOS: 7.
AlmaLinux: 8.
Rocky Linux: 8.
Once we have a suitable OS, we do the following steps:
Access the server via SSH with the root user.
ssh root@IP_cua_server
If wget is not installed, use the following command to install it:
Debian/Ubuntu:
apt-get update; apt-get install wget
CentOS/AlmaLinux/Rocky Linux:
yum makecache; yum install wget
Launch the FastPanel installer via the command:
wget http://repo.fastpanel.direct/install_fastpanel.sh -O - | bash –
After installing FastPanel, you will receive access information to the hosting management interface.
Congratulations! FASTPANEL® successfully installed and available for you at https://1.2.3.4:8888
Login: fastuser
Password: password
At the first login session, FastPanel will ask for a license, to get a license you enter your email address. License information will be sent via that email.
Get the license.
To get a license, you need to create an account.
1. Get the license.

2. Add the license to the cart and enter the IP that you need to license.
3. License will be automatically generated.
Activate the license.
If your server is in NAT mode and does not have a public network interface, the software will be activated with a key, to get the key, follow these steps:
After logging in to your FastPanel account, go to Billing.
2. Select the license corresponding to the server's IP.

3. Copy the activation key.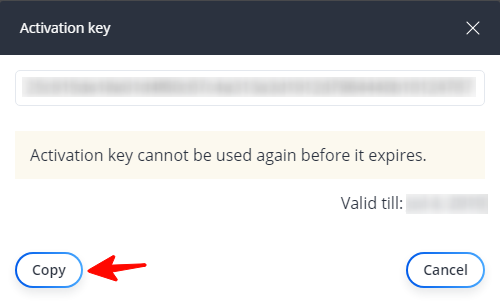 4. Paste the key into the activation window during the installation process.