Renting a gaming VPS is becoming a trend. You have chosen to rent a gaming VPS but do not know how to install and use it. Don't worry, today with BKNS learn how to install and use VPS to play online games.
Next, I will guide you how to install and use to remote control anywhere.
What do you need to prepare?
Of course, before doing the installation you need the following basic things
Computer: Of course, this is a must-have to be able to install after renting a gaming VPS
Internet: You will also need internet to perform the installation, which is also required.
Choosing to rent a gaming VPS needs to meet some requirements such as:
Minimum of 2GB Ram or more
Unlimited Bandwidth
Easy installation, easy using Remote Desktop or Remote Mobile tape
Install after renting a gaming VPS
Similar to installing games on PC
To control vps playing online games, you need to start the Remote Desktop Connection program as follows:
Step 1: Go to start or press the Windows shortcut key, then type Remote Desktop Connection and then select the Remote Desktop Connection program, the interface will appear as shown: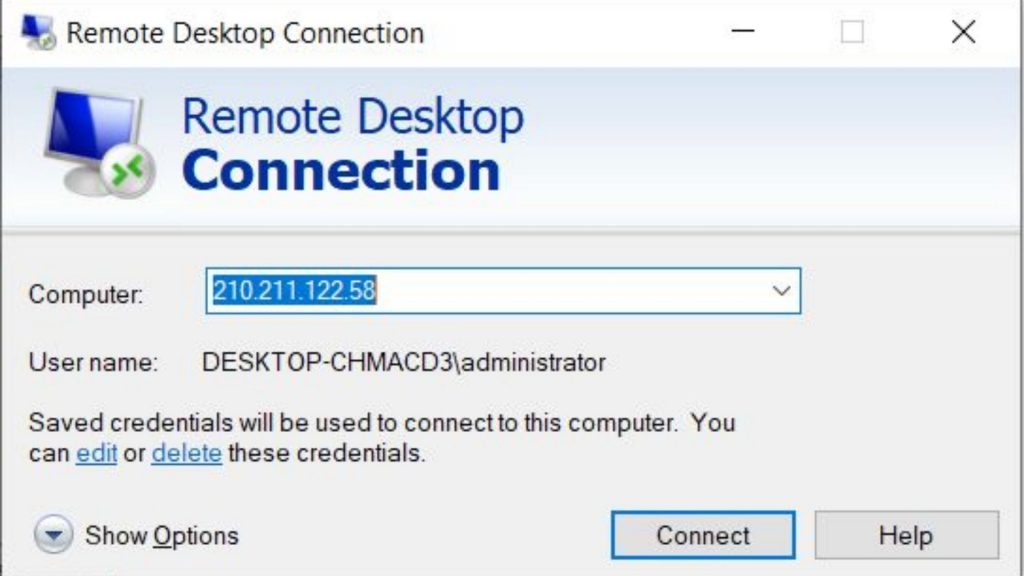 Step 2: Fill in all the IP information of the VPS you were provided with when renting a gaming VPS then press connect.
Step 3: Fill in the login information you provided when buying a virtual server VPS, after successful login you will be able to access the VPS with the Windows interface that you require to install to play the game.
Step 4: This is an online computer, so it has the same interface as the computer you are using to play games, you can install Windows 7 8 10 depending on your requirements. After you install the game, hang the tool, you can turn off the program or turn off the computer. You can remotely control anywhere with another computer.
Gaming is not only a mere entertainment tool anymore, but it also opens up a lot of career opportunities later on. If you become a professional gamer, you can participate in international e-sports tournaments, streamers, game makers, etc.
Where should I rent a reputable gaming VPS?
Now, BKNS is providing Cloud VPS SSD service with cheap price from only 140,000 VND/month. Not only hanging games, any storage needs of customers will also be met in the most perfect way.
Please refer to the price list Cloud VPS SSD of BKNS here:
CLOUD-VM01

140,250 VND /month

01 Core

01 GB

20 GB

100Mbps

.

CLOUD-VM02

178,500 VND /month

02 Core

02 GB

30 GB

100Mbps

CLOUD-VM03

272,000 VND /month

03 Core

03 GB

40 GB

150Mbps

CLOUD-VM04

408,000 VND /month

04 Core

04 GB

50 GB

150Mbps

CLOUD-VM05

603,500 VND /month

04 Core

06 GB

60 GB

200Mbps

CLOUD-VM06

739,500 VND /month

05 Core

08 GB

70 GB

200Mbps

CLOUD-VM07

1,020,000 VND /month

07 Core

12 GB

80 GB

200Mbps

CLOUD-VM08

1,530,000 VND /month

08 Core

16 GB

100 GB

200Mbps
Specifications
Unlimited Bandwidth
Free SSL certificate let's encrypt
IPV4 address: 01
Free IPv6/56
Weekly data backup
Free trial: 07 days
24/7 support
Support to transfer data from other NCC to BKNS.
Free Direct Admin
Requires separate configuration
By now, you probably already understand how to install it, right? After renting a VPS to play games, the installation is quite easy. Wish you soon success in operation. If you are interested in renting VPS for gaming, please contact BKNS immediately.
Maybe you are interested: