Talk about VPS service If you can try it for free, you can't help but mention it BKNS. When trying VPS, customers can experience, test and evaluate the quality of the service. Help customers make the right choice in accordance with their needs and rest assured to use the service for a long time.
What does VPS service at BKNS have?
When you register for any VPS service package at BKNS, you will enjoy the following incentives:
Free trial: 07 days.
Unlimited bandwidth.
IPV4 address: 01.
Free IPv6/56.
Weekly data backup.
Free Direct Admin.
Free let's encrypt SSL certificate.
Support to transfer data from other NCC to BKNS.
Requires separate configuration.
24/7 support.
Advantages of VPS service at BKNS
Uptime commitment 99.99%
When a physical server fails, all VPS on that server will be automatically moved to one of the other servers on the same system. Therefore, the VPS can still operate normally without any interruption. The system at BKNS always guarantees 99.99% uptime for you and minimizes data loss due to hardware failure.
Quick start and easy upgrade
The registration and initialization of the Server is completely automatic to help customers save their time. VPS service at BKNS allows to increase or decrease resources (CPU, RAM, HDD) immediately. Unlimited scaling. Management through Direct Admin copyright free easy and simple.
Exceptional processing speed
The server system uses 100% SSD hard drive combined with up to 1Gbps input line. With LiteSpeed ​​technology for outstanding performance.
24/7/365 support
With a team of top experts in the industry, BKNS can support and handle your problems in the fastest way. With 12 years of operation in the field of network solutions, BKNS has enough capabilities. And ready to accompany you on the way to affirm your global online brand.
Prices are always good
Rates at BKNS Not the best on the market, but we're committed to quality service that's worth the money. Come to us, you will be satisfied.
Price list of VPS services at BKNS
CLOUD-VM01

140,250 VND /month

01 Core

01 GB

20 GB

100Mbps

.

CLOUD-VM02

178,500 VND /month

02 Core

02 GB

30 GB

100Mbps

CLOUD-VM03

272,000 VND /month

03 Core

03 GB

40 GB

150Mbps

CLOUD-VM04

408,000 VND /month

04 Core

04 GB

50 GB

150Mbps

CLOUD-VM05

603,500 VND /month

04 Core

06 GB

60 GB

200Mbps

CLOUD-VM06

739,500 VND /month

05 Core

08 GB

70 GB

200Mbps

CLOUD-VM07

1,020,000 VND /month

07 Core

12 GB

80 GB

200Mbps

CLOUD-VM08

1,530,000 VND /month

08 Core

16 GB

100 GB

200Mbps
Instructions to register for a free 7-day VPS trial at BKNS
Here are 2 steps to help you register for a free trial of VPS service at BKNS. Please visit the following link: https://www.bkns.vn/server/may-chu-ao.html.
Method 1:
You access the link above and see information about VPS packages at BKNS.
In the right corner of the screen, you will see the buttons to directly contact our customer care department BKNS. Those channels include: Zalo, Messenger and Live chat. You can choose 1 of 3 chat channels to receive support for registering to try VPS services directly from our customer care department. BKNS.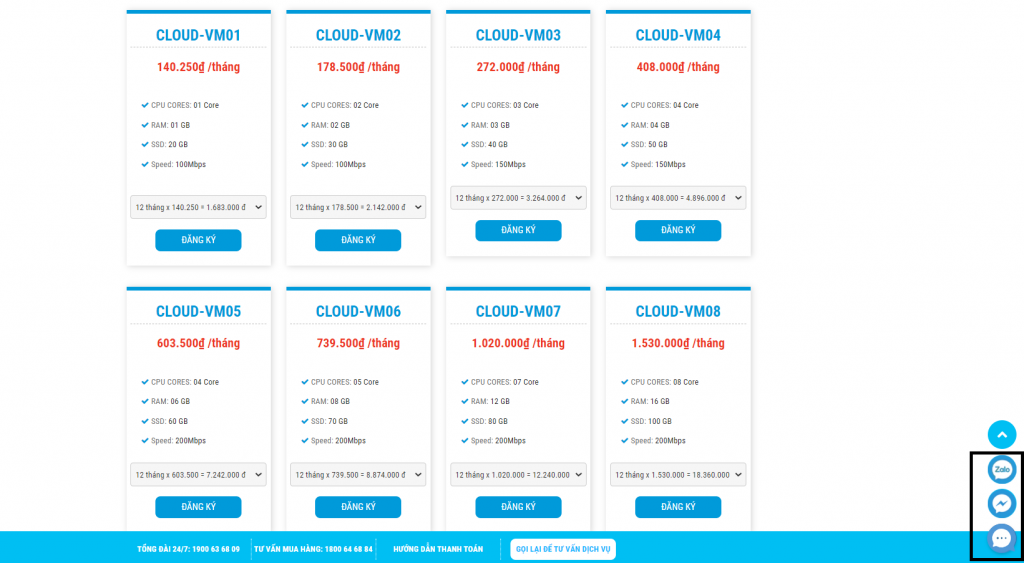 Method 2:
You can leave a message in the Quick registration of the service. Note: At box Registration Service Please fill in your information Register to try VPS service. BKNS will contact and assist with the registration procedure for you in a few minutes.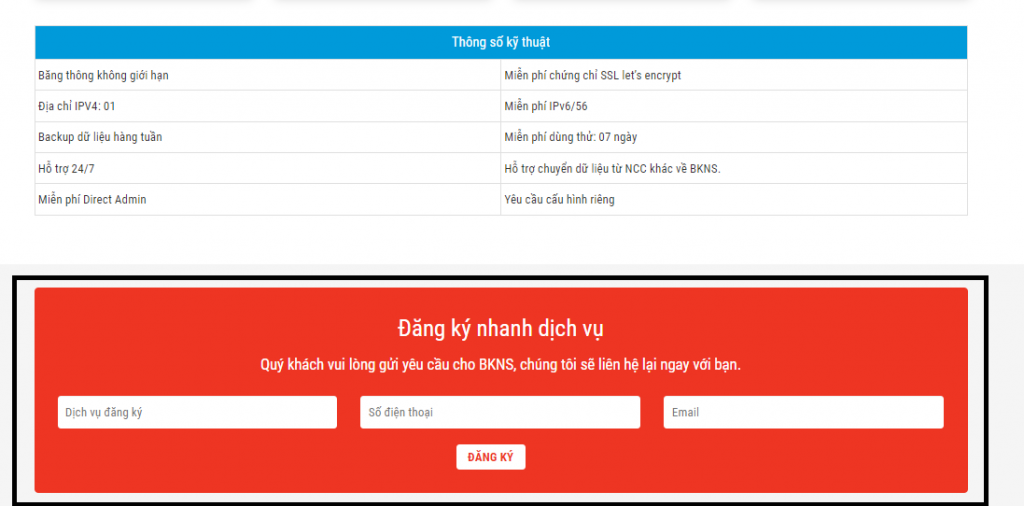 In addition, you can call Hotline: 1800 646 884 (Free of charge) for support in registering for the fastest VPS service!
Conclude
During the process of BKNS confirming registration, please provide sufficient information for the procedure to be completed quickly. During the trial of VPS service, if you encounter any problems, you can contact us immediately BKNS for assistance.
>>>See more services at BKNS: