The birth of VPS can be considered as a new revolution for server solutions. What better than a web host with 99% uptime, outstanding performance and unlimited scalability. Today, BKNS would like to introduce to you the latest features of our VPS service. Let's see the new points of VPS and the latest VPS price list 2022 in the article below!
Outstanding features of VPS service at BKNS
High Availability
BKNS there is a mechanism to automatically monitor the status of servers in the "cloud". In the event of any failure, data will be transferred from one physical server to another more secure physical server. Ensure VPS operation is not interrupted and minimize your data loss.
Extremely Fast Deployment
Operational deployment for a virtual server will be BKSN done very quickly. Because we have a team of leading experts and modern technology system. In addition, the restoration, reinstallation or new installation of virtual servers according to your needs are supported by us for free.
Easy to expand and upgrade
If customers need to upgrade resources or create new virtual servers in the internal system. Then as soon as the customer makes a valid payment, we will upgrade immediately.
Remote access
All virtual servers come with free DirectAdmin administration software. Help customers have remote access with the highest administrative rights.
Weekly data backup
VPS service at BKNS is set up automatic backup software automatically. Help your data be automatically backed up once a week.
Friendly management interface
The management interface of DirectAdmin software is designed to be simple and convenient. Allows customers to easily manage and set up virtual servers.
Advanced Security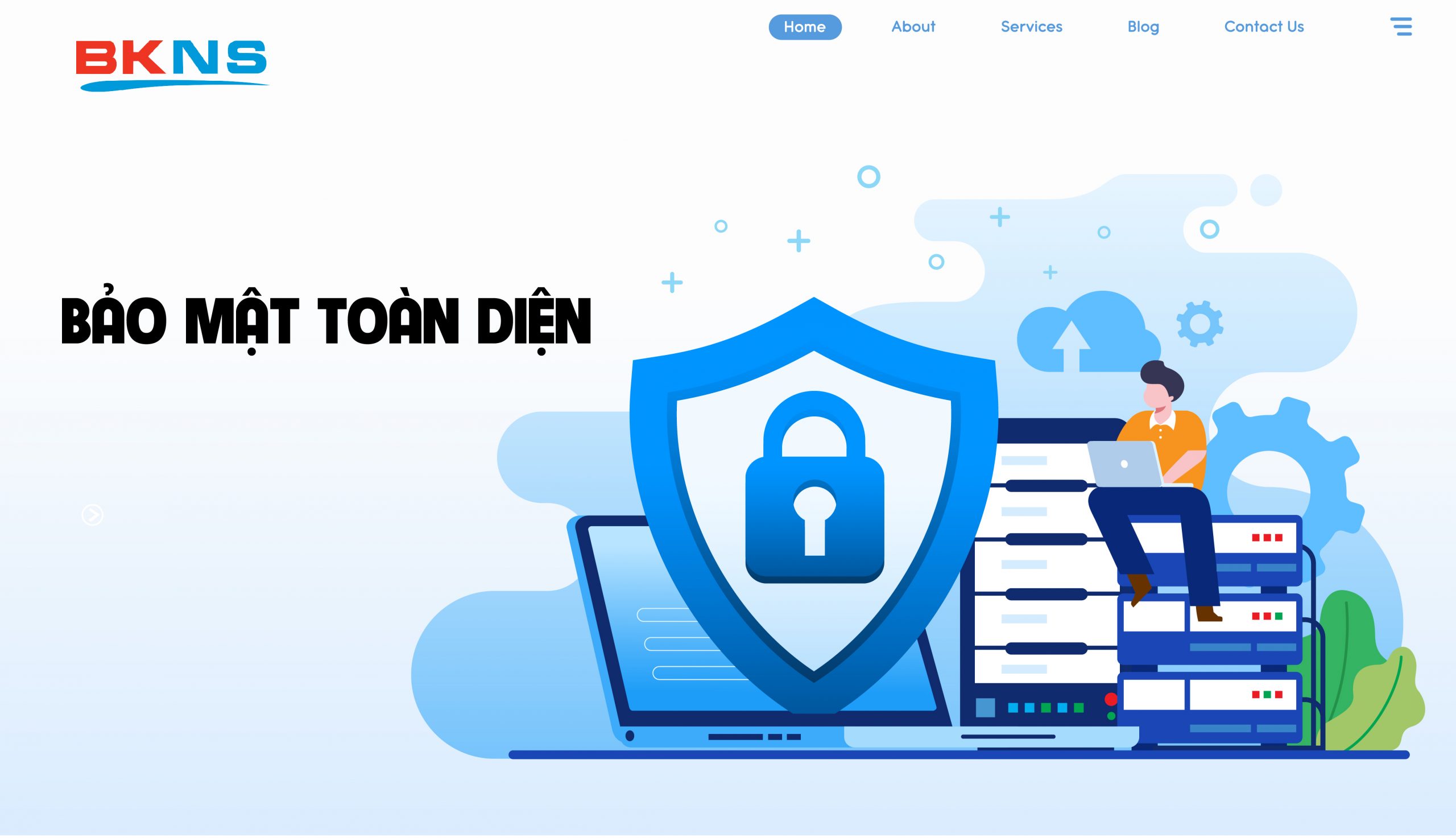 VPS at BKNS used multiple security systems full time. This security system also controls and protects the data flow in and out when you exchange data with the outside.
Modern platform
VPS service at BKNS powered by the most powerful and modern server system. With the ability to provide up to several thousand CPUs, Gygabytes of RAM and dozens of Petabye data storage.
Besides, the server system of BKNS are also located at the largest international standard Data Centers in Vietnam. Guaranteed uptime up to 99.99%.
Modern cloud computing technology
Currently, VPS at BKNS 100% cloud computing technology is used. Distribute data on hundreds of thousands of hard drives on the same system. Guaranteed data security and unlimited resource upgrades.
Use 100% SSD hard drive
The use of 100% SSD memory helps to achieve outstanding access speed from 600 MBps – 800 MBps. This helps to improve your website speed.
24/7 support
A team of consultants and technical support experts will always accompany you 24/7. BKNS We are committed to supporting and troubleshooting to help you quickly and effectively!
VPS – The latest virtual server price list 2022 at BKNS
Below is the latest VPS price list 2022 at BKNS. Please refer!
1. VPS SSD
CLOUD-VM01

140,250 VND /month

01 Core

01 GB

20 GB

100Mbps

.

CLOUD-VM02

178,500 VND /month

02 Core

02 GB

30 GB

100Mbps

CLOUD-VM03

272,000 VND /month

03 Core

03 GB

40 GB

150Mbps

CLOUD-VM04

408,000 VND /month

04 Core

04 GB

50 GB

150Mbps

CLOUD-VM05

603,500 VND /month

04 Core

06 GB

60 GB

200Mbps

CLOUD-VM06

739,500 VND /month

05 Core

08 GB

70 GB

200Mbps

CLOUD-VM07

1,020,000 VND /month

07 Core

12 GB

80 GB

200Mbps

CLOUD-VM08

1,530,000 VND /month

08 Core

16 GB

100 GB

200Mbps
Specifications
Unlimited Bandwidth
Free SSL certificate let's encrypt
IPV4 address: 01
Free IPv6/56
Weekly data backup
Free trial: 07 days
24/7 support
Support transferring data from other NCC to BKNS.
Free Direct Admin
Requires separate configuration
2. VPS SSD SEO
SEO 01

425,000 VND /month

03 Core

03 GB

50 GB

Unlimited

(Different IP from class C + 150,000 VND)

Weekly

SEO 02

700,000 VND/month

05 Core

05 GB

70 GB

Unlimited

(Different IP from class C + 150,000 VND)

Weekly
3. VPS MMO
VPS – MM01

79,000 VND /month

01 Core

01 GB

20 GB

1 IPv4 VN

IPv6:/56

Speed: 100Mbps

Unlimited

1 month x 99,000 = 99,000 VND3 months x 89,000 = 268,000 VND6 months x 84,000 = 505,000 VND12 months x 79,000 = 951,000 VND

VPS – MMO2

106,000 VND /month

01 Core

02 GB

25 GB

1 IPv4 VN

IPv6:/56

Speed: 100Mbps

Unlimited

1 month x 133,000 = 133,0003 months x 120,000 = 360,000 VND6 months x 113,000 = 678,000 VND12 months x 106,000 = 1,280,000 VND

VPS – MMO3

145,000 VND /month

02 Core

02 GB

30 GB

IPv4 VN

IPv6:/56

Speed: 150Mbps

Unlimited

1 month x 181,000 = 181,000 VND3 months x 163,000 = 489,000 VND6 months x 154,000 = 925,000 VND12 months x 145,000 = 1,738,000 VND

VPS – MMO4

233,000 VND/month

02 Core

04 GB

40 GB

IPv4 VN

IPv6:/56

Speed: 150Mbps

Unlimited

1 month x 278,000 = 278,000 VND3 months x 250,000 = 751,000 VND6 months x 236,000 = 1,420,000 VND12 months x 223,000 = 2,670,000 VND

VPS – MMO5

326,000 VND /month

04 Core

04 GB

50 GB

IPv4 VN

IPv6:/56

Speed: 200Mbps

Unlimited

1 month x 408,000 = 408,000 VND3 months x 367,000 = 1,102,000 VND6 months x 347,000 = 2,082,000 VND12 months x 326,000 = 3,918,000 VND

VPS – MMO6

422,000 VND /month

04 Core

08 GB

60 GB

IPv4 VN

IPv6:/56

Speed: 200Mbps

Unlimited

1 month x 528,000 = 528,000 VND3 months x 475,000 = 1,426,000 VND6 months x 449,000 = 2,693,000 VND12 months x 422,000 = 5,070,000 VND

VPS – MMO7

623,000 VND /month

08 Core

08 GB

80 GB

IPv4 VN

IPv6:/56

Speed: 200Mbps

Unlimited

1 month x 778,000 = 778,000 VND3 months x 700,000 = 2,100,000 VND6 months x 662,000 = 3,970,000 VND12 months x 623,000 = 7,480,000 VND

VPS – MMO8

831,000 VND /month

08 Core

16 GB

100 GB

IPv4 VN

IPv6:/56

Speed: 200Mbps

Unlimited

1 month x 1.039,000 = 1.039,000 VND3 months x 935,000 = 2,805,000 VND6 months x 883,000 = 5,300,000 VND12 months x 831,000 = 9,980,000 VND
window.fbAsyncInit = function() {
FB.init({
appId : '1652139035060867',
xfbml : true,
version : 'v2.5'
});
};
(function(d, s, id){
var js, fjs = d.getElementsByTagName(s)[0];
if (d.getElementById(id)) {return;}
js = d.createElement(s); js.id = id;
js.src = "https://connect.facebook.net/en_US/sdk.js";
fjs.parentNode.insertBefore(js, fjs);
}(document, 'script', 'facebook-jssdk'));