With so many suppliers on the current market. It is not difficult for users to find it difficult to find and choose a reputable supplier. BKNS is always proud to be a reputable supplier with more than 10 years in the industry. Today, let's consult with BKNS for VPS price list in April 2022. Along with that, there are a lot of promotions in this April.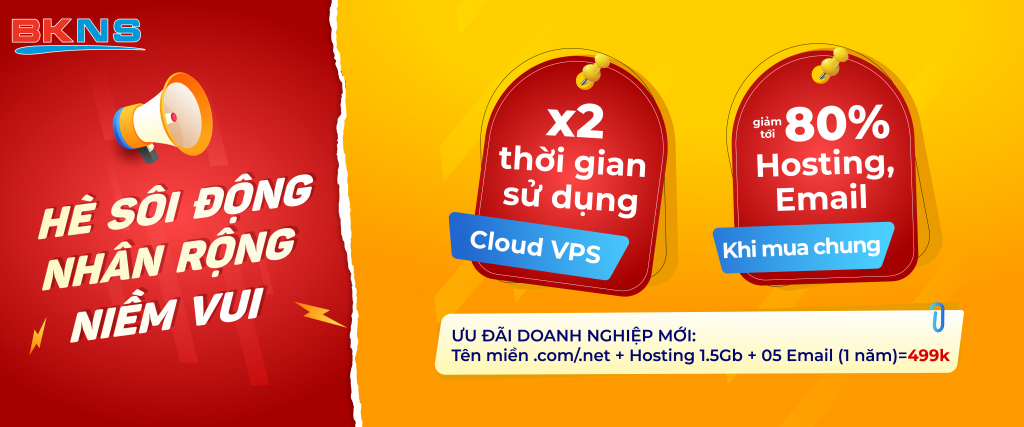 Advantages of buying VPS at BKNS.
Before coming to the product price list, let's take a look at the advantages of VPS at BKNS.
In addition to all the usual advantages of other providers. Service cloud VPS of BKNS There are additional benefits for customers such as:
100% SSD Enterprise guarantees the speed and reliability of customer data.
NVME Caches improve super-fast read and write speeds to increase data processing speed.
Cloud virtualization technology on the KVM platform brings reliability, reliable stability.
Weekly backups at separate storage centers provide absolute safety for customer data.
Support to convert data from other providers to completely free.
April promotion for BKNS VPS.
April 2022 BKNS offers a huge promotion for new registered customers. Specifically as:
Double the time using VPS service

Apply to packages Cloud VPS from package 03 or more

Applied on the original unit price for 1 month

Apply for registration minimum 12 months and maximum 36 months.

Applies to customers who register new services.

Application period: From March 20, 2022 to the end of April 20, 2022
VPS price list at BKNS
You can consult SSD VPS price list in BKNS down here:
Cloud VPS SSD
CLOUD-VM01

140,250 VND /month

01 Core

01 GB

20 GB

100Mbps

.

03 months x 165,000 = 495,000 VND 06 months x 156,750 = 940,500 VND 12 months x 140,250 = 1,683,000 VND 24 months x 123,750 = VND 2,970,000 36 months x 107,250 = 3,861,000 VND

CLOUD-VM02

178,500 VND /month

02 Core

02 GB

30 GB

100Mbps

03 months x 210,000 = 630,000 VND 06 months x 199,500 = 1,197,000 VND 12 months x 178,500 = VND 2,142,000 24 months x 157,500 = 3,780,000 VND 36 months x 136,500 = VND 4,914,000

CLOUD-VM03

272,000 VND /month

03 Core

03 GB

40 GB

150Mbps

01 month x 320,000 = 320,000 VND 03 months x 320,000 = 960,000 VND 06 months x 304,000 = 1,824,000 VND 12 months x 272,000 = 3,264,000 VND 24 months x 240,000 = VND 5,760,000 36 months x 208,000 = 7,488,000 VND

CLOUD-VM04

408,000 VND /month

04 Core

04 GB

50 GB

150Mbps

01 month x 480,000 = 480,000 VND 03 months x 480,000 = 1,440,000 VND 06 months x 456,000 = VND 2,736,000 12 months x 408,000 = VND 4,896,000 24 months x 360,000 = VND 8,640,000 36 months x 312,000 = 11,232,000 VND

CLOUD-VM05

603,500 VND /month

04 Core

06 GB

60 GB

200Mbps

01 month x 710,000 = 710,000 VND 03 months x 710,000 = VND 2,130,000 06 months x 674,500 = VND 4,047,000 12 months x 603,500 = 7,242,000 VND 24 months x 532,500 = 12,780,000 VND 36 months x 461,500 = VND 16,614,000

CLOUD-VM06

739,500 VND /month

05 Core

08 GB

70 GB

200Mbps

01 month x 870,000 = 870,000 VND 03 months x 870,000 = VND 2,610,000 06 months x 826,500 = VND 4,959,000 12 months x 739,500 = 8,874,000 VND 24 months x 652,500 = VND 15,660,000 36 months x 565,500 = VND 20,358,000

CLOUD-VM07

1,020,000 VND /month

07 Core

12 GB

80 GB

200Mbps

01 month x 1,200,000 = 1,200,000 VND 03 months x 1,200,000 = 3,600,000 VND 06 months x 1,140,000 = VND 6,840,000 12 months x 1,020,000 = 12,240,000 VND 24 months x 900,000 = 21,600,000 VND 36 months x 780,000 = VND 28,080,000

CLOUD-VM08

1,530,000 VND /month

08 Core

16 GB

100 GB

200Mbps

01 month x 1.800.000 = 1,800,000 VND 03 months x 1,800,000 = VND 5,400,000 06 months x 1,710,000 = 10,260,000 VND 12 months x 1,530,000 = VND 18,360,000 24 months x 1,350,000 = 32,400,000 VND 36 months x 1,170,000 = VND 42,120,000
Specifications
Unlimited Bandwidth
Free Let's Encrypt SSL Certificate
IPV4 address: 01
Free IPv6/56
Weekly data backup
Free trial: 07 days
24/7 support
Support transferring data from other NCC to BKNS.
Free Direct Admin
Requires separate configuration
Maybe you are interested:
window.fbAsyncInit = function() {
FB.init({
appId : '1652139035060867',
xfbml : true,
version : 'v2.5'
});
};
(function(d, s, id){
var js, fjs = d.getElementsByTagName(s)[0];
if (d.getElementById(id)) {return;}
js = d.createElement(s); js.id = id;
js.src = "https://connect.facebook.net/en_US/sdk.js";
fjs.parentNode.insertBefore(js, fjs);
}(document, 'script', 'facebook-jssdk'));