In this article, you will learn why you should use WHM and how it becomes useful in website management.
Why use WHM (Web Host Manager)?
These are the main points why you should use WHM to manage multiple websites:
Greater security for websites. The cPanel is different for each website which means that if one domain is hacked, the other domains will not be affected. Thus they will become more secure.
Better management. You have the power to monitor all the activity on your website and easily switch back and forth between cPanels. WHM also allows you to adjust the bandwidth and disk space of each account.
Resell hosting. You can monetize your hosting by creating a new cPanel account that people can buy.
Unique cPanels for branding. For resale purposes, WHM interface can be changed to build brand, own image.
What is WHM?
WHM (Web Host Manager) is a control panel that helps users manage cPanel-based websites.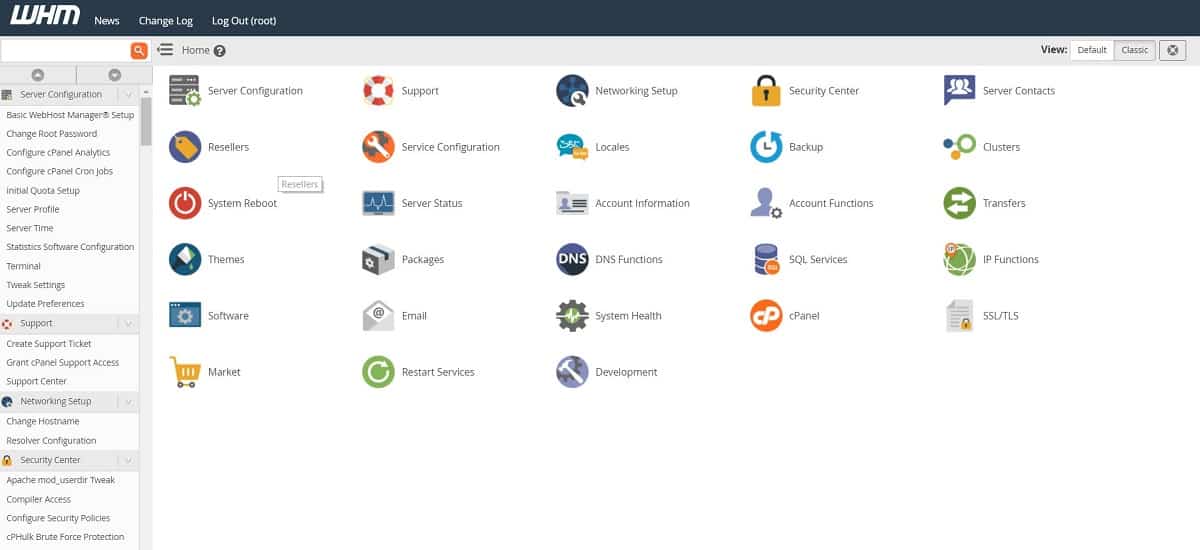 Maybe you do not know what WHM is with the above brief definition. But you will know as soon as you learn the main functions you can do with WHM below:
Create, delete or suspend an account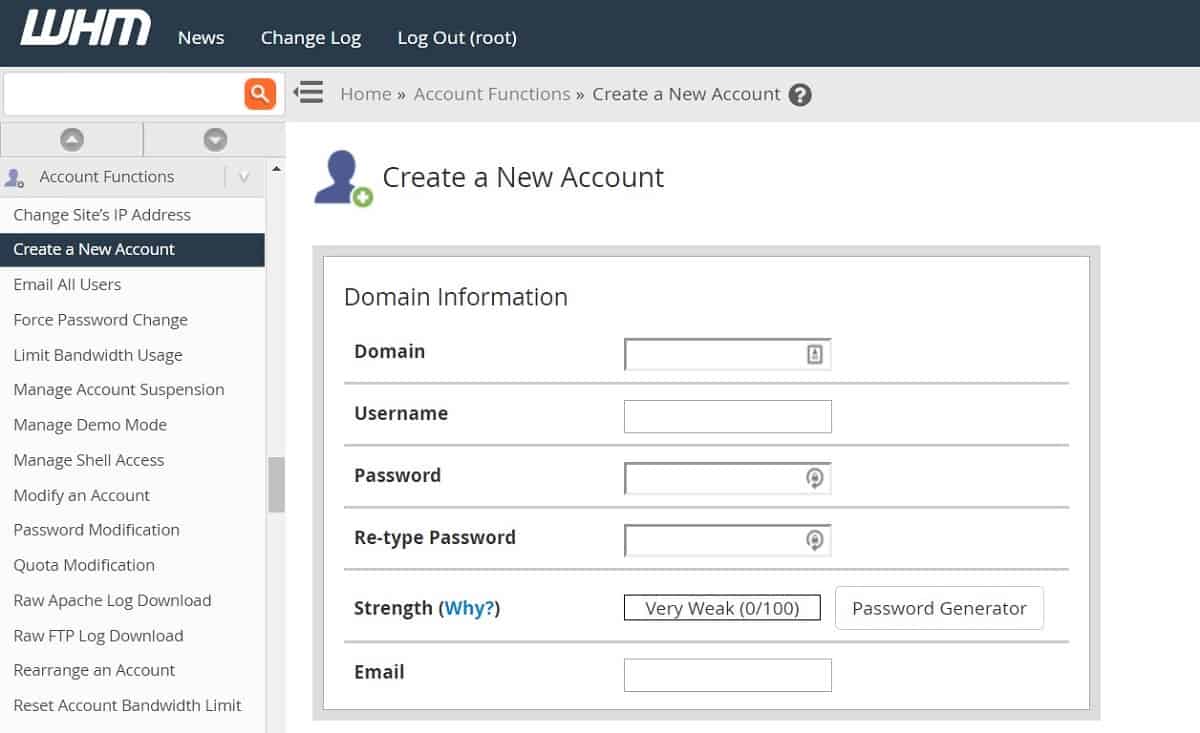 WHM allows you to add multiple cPanel accounts and set a default page for each account.
The way to do it is to go to Account Functions and fill in all information including domain details, settings DNS and mail routing options. Then click Create.
What's more, if one of your customers violates the agreement or their account has expired, you can remove or suspend it by going to the menu List Accounts.
Server monitoring
All activity on your server can be monitored through WHM. For example Process Manager used to register all the processes running in the server.
Second, with Service Manager, owners can manage their services and background activities.
And last but not least, Current Disk Usage will notify about the remaining storage space and what it is used for.
Set up several Hosting packages
As a WHM account owner, you have the freedom to decide how you will split your storage. This is useful when you want to offer different hosting plans at different prices.
The best part is that you can easily upgrade an existing domain without having to move all the files.
File transfer
It is possible to move files from the remote server to your hosting just in case your new client has already created their website somewhere else.
Customize the dealer's brand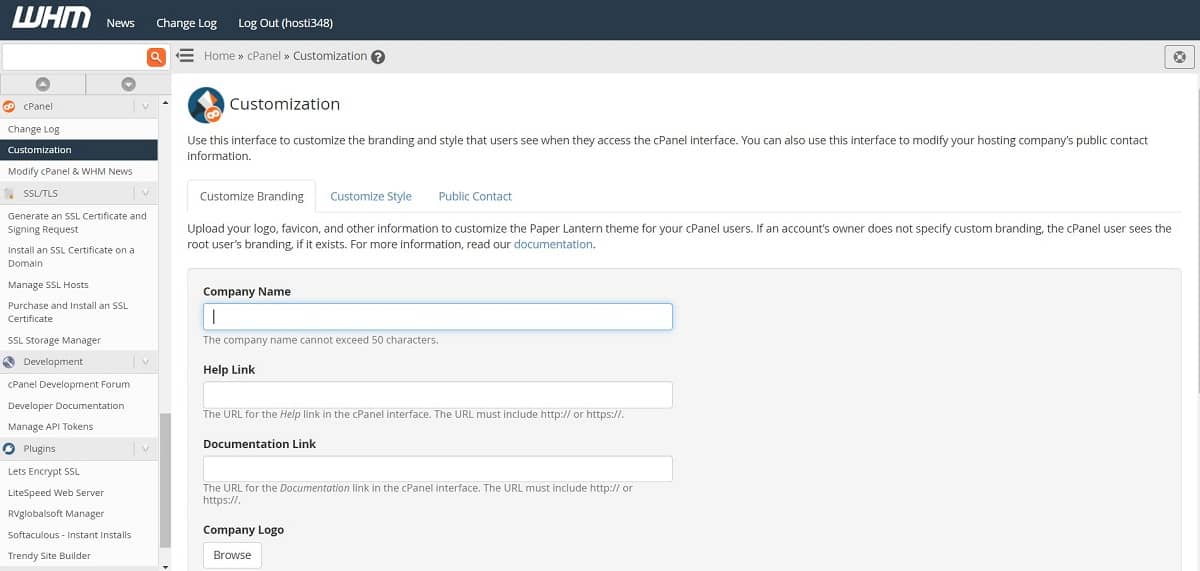 You may want your server to be uniquely identifiable even though you resell it from the original hosting company.
With WHM, you can freely own the logo, document links, cPanel style and public profile of the company.
These settings can be found in cPanel tab -> Customization.
Market Provider Manager
This feature allows you to manage and display products that customers can purchase through their cPanel, such as contracts SSL years or upgrade packages.
Manage SSL Certificates
If you are a reseller, customers will expect your server to have everything they need, including SSL. Luckily you will find this feature to install and manage it in the tab SSL/TLS.
Enable cPHulk for increased security
Turn on cPHulk Up will help you protect all domains from outside attacks by restricting access forcing them to lead to cPanel.
Backup and restore files
You can enable automatic backups to run on one or all of the accounts on your server. Then the data will be uploaded to remote storage, like Google Drive, WebDAV, vv
The backup settings, along with the restore features, are located in the tab Backup.
Provide CMS for cPanel users
We recommend providing some options to make sure your users can install content management system that they choose. This function can be activated in Manage cPAddons Site Software.
Option
There are many features in this section so you can add or edit many things on the server, including spam protection, default login theme and notification alerts.
Plugin cho cPanel
cPanel is compatible with plugins like Munin (server monitoring), ClamAV (anti-virus) and Solr (text indexing) and if you find some of them useful for your customers, you can add them through the Manage Plugins menu.
Epilogue

WHM is a powerful tool for managing multiple websites at once. What's more, WHM makes hosting resale possible.
For this purpose, there are many WHM functions that allow you to have full control over managing multiple sites.
Hopefully, now that you know what WHM is, have a better understanding of WHM and how you can use it to manage a website.